"If you fail to plan, then you plan to fail"
Most of us wouldn't pack all our belongings and hit the road without a plan – Would you?
With everything on the line, the answer is probably "No".
The same principle applies to running a business. In order to grow and be successful in your industry you need a road map – a plan.
What is a business plan?
A business plan is an essential document for describing aims and objectives and enabling the measurement of process toward achieving them.
The business plan provides the means to:
Appraise the present and future of the business
Define short and long term objectives
Establish a framework for action to achieve those objectives
A business plan is a living document that should be continuously reviewed in light of the environment and actual observed results. This enables the directors and key stakeholders to oversee all aspects of business performance and manage it more effectively.
It contains 3 essential elements:
marketing plan
operations plan
financial plan
The strategic business plan will define major business goals for the next year and for the next 3 years. It will include a financial plan and will consider market trends and future issues that may impact your business.
If you are starting a business, a business plan can help you:
Turn your ideas and capital into a viable business
Secure financing from lenders and investors
Identify strengths, weaknesses, opportunities and threats
If you're managing an existing business, a business plan can help you:
Communicate your vision to employees and external parties
Develop accurate financial forecasts
Compare planned vs. actual performance
If you are exiting your business, a business plan can help you:
Develop a plan to transfer ownership, sell your business, or close your business
Establish a timeline for the transition process
Identify financial and regulatory requirements
The dynamic external conditions of the environment in which your company is positioned, as well as those of your internal environment, should prompt a review of your company's strengths and weaknesses. This is done formally through a SWOT analysis, integrated both at the beginning of the business plan, as well as on a continual basis for monitoring and modifications.
SWOT Analysis
Strengths
Strength provides an area to list everything that is being done right, either individually or as an organization. This section contains strengths within the organization and external strengths such as client relationships.
Questions to consider:
What are your assets?
Which one of those assets is the strongest?
What makes you better than your competitors?
Do you have a strong customer base?
What is unique about your company?
How skilled are your employees?
What are the things that other people say you do well?
Weaknesses
Weaknesses are aspects of your business that detract from the value you offer or place you at a competitive disadvantage. You need to enhance these areas in order to compete with your best competitor.
Questions to consider:
What areas do you need improvement on?
What are the things you need to avoid?
What areas do your competitors have an advantage in?
Are you lacking in knowledge?
Are your employees not skilled enough?
Do you have enough investment to start such a project?
Is your customer base too low?
Are you making enough profit?
Is your competitor running miles ahead of you?
Opportunities
Opportunities are factors that represent reasons your business is likely to prosper. Such as being able to expand a franchise into a new city, while some may fall into your lap such as another country opening up its market to foreign business.
Questions to consider:
What external changes will bring you opportunities?
What are the current ongoing trends?
Will these trends affect you in a positive manner?
Can you take advantage of the local market?
What is the market missing?
Can you provide that missing link for the consumers?
Is your rival company failing to satisfy their customer base?
If so, can you win over their customers?
Will natural causes like weather and climate changes give you the competitive edge?
Is your brand name helping you to get financed easier?
Threats
Threats include external factors beyond your control that could place your strategy, or the business itself, at risk. You have no control over these, but you may benefit by having a contingency plan to address them if they should occur.
Questions to consider:
What are the negative aspects in the current market?
Are there potential competitors who can give you a competition in the future?
What are the obstacles you are facing in the current mission?
Have you done anything which may lead to a possible lawsuit?
Are your key staff members satisfied with their wages and other benefits?
Do you see them being poached by your rivals?
Do you see a change in consumer taste?
Are the government regulations going to affect you?
What are the chances of a natural disaster affecting your production?
Will political instability hurt you?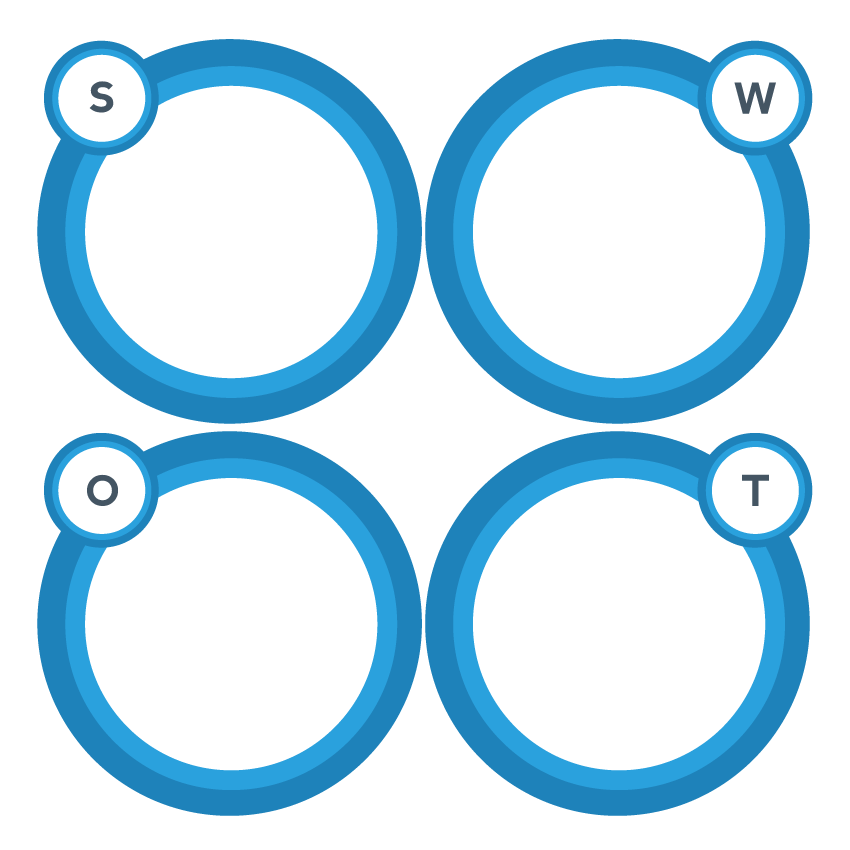 Strategic Business Planning Process
Phase 1 – Research
Before considering any branding, sales or marketing strategy we do our homework and learn about your company, the products and services you offer, and the competitive marketplace that you do business.
Internal Assessment:
Management
Marketing
Finance / Accounting
Production / Operations
Research and development
Products and services
Customer Relationship Management (CRM) systems
External:
Economic forces
Social, cultural, demographic and environmental forces
Technological forces
Competitive forces
Phase 2 – Marketing Strategy
After a careful analysis we are able to create an effective strategy to increase your presence in the marketplace.
Understand your market and your ideal customer profile
Identify new customer segments
Identify new marketing channels
Develop the brand to build visibility and awareness
Phase 3 – Strategic Business Plan
The strategic business plan will review all four areas of your business:
Operations
Administration
Marketing
Sales
Phase 4 – Implement an Integrated Marketing Strategy
A number of recommendations will be a direct result of the first three phases in the business development process. The final phase is to implement the recommendations as an integrated solution that ties together branding, marketing, sales, CRM systems, database research and human resources to effectively communicate your unique value proposition.
Contact us for further information on:
Business Plan
Feasibility Plan
Marketing Plan
Outbound Sales Plan
Exit Plan
Transition Plan