[col12]

If you are thinking of selling your business, either now or in the future, the time to start planning is now. You are running a successful business and have put in years of hard work. Many business owners have an exit plan in place.
Chinese Proverb "The best time to plant a tree is 20 years ago, the second best time is now"
Unfortunately, many business owners are preoccupied with the daily operations of their business and they neglect to take the time to properly plan for the inevitable transition of their business.
In the military, an exit plan is understood as the plan utilized in any mission to minimize the loss of lives and equipment.
Similarly an exit plan for a business is a way of transitioning the ownership of your company while recouping the capital you have invested in it. The idea is to minimize the losses, and maximize your return on investment (ROI).
Whether you are keeping the business in the family, selling to a third party, or having current management take over the business, a functioning exit strategy is essential to maximise the value of your business when it is sold.
Firstbase offers a complete exit strategy, including planning, valuation and brokerage services to list your business if applicable. The team at Firstbase will work directly with our Merger & Acquisitions division, Pavilion Business Services, to groom your business for transition.
Our services include:
Short, medium and long term exit planning
Comprehensive evaluation of current business position, and formulating a complete strategic plan ready for exit
Analysis of key areas of the business, and full preparation of each area ready for sale
Exit options analysis, explanation and planning with owners/shareholders (and board of directors, if appropriate)
Identifying applicable third-party requirements, such as lawyers, tax professionals, etc.
Impartial advice and resolution of complex business matters or disputes relating to sale
Professional, detailed business valuation
Structured planning and guidance for each step of preparation for sale
Maximizing sales value and ensuring a smooth process from start to finish
Contact us to discuss your Exit strategy at 1-800-758-2922
[/col12] [col12]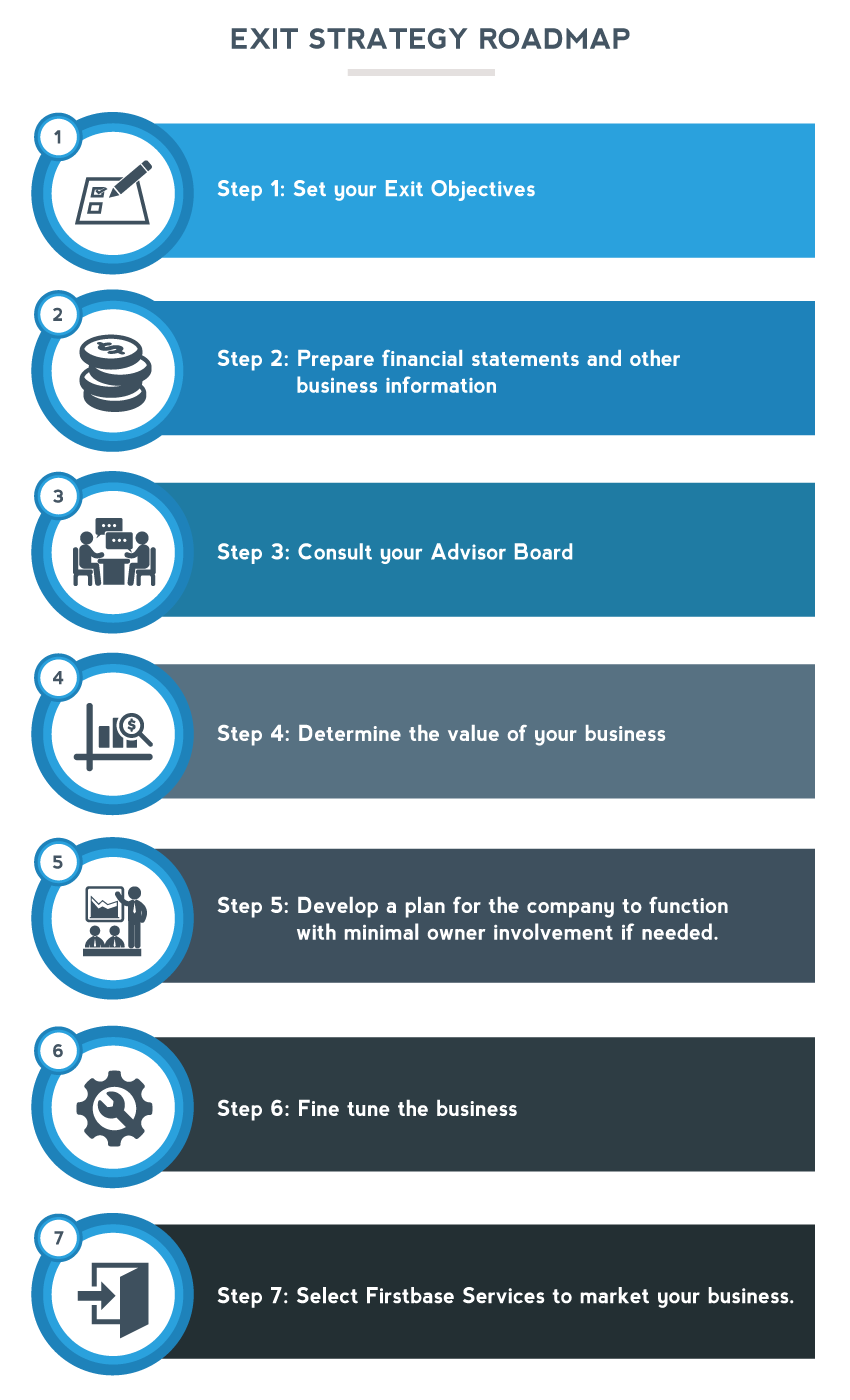 [/col12] FREE Consultation