Industrial Automation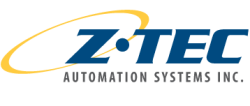 Business Overview
Established in 1992, Z-Tec Automation Systems is an industrial automation company that provides custom printing, labeling and monitoring solutions for the forest products industry.
Z-Tec required a business development strategy to increase sales and achieve greater profitability. Our approach was to implement an Integrated Marketing program that dramatically improved performance.
What is Firstbase's Work?
Being seen is what counts for corporate identity. We began with a Strategic Business Plan and action plan for a minimum of 1 year. Firstbase implemented identity and marketing outreach programs to improve visibility and positioning for growth.
Strategic Business Planning
Business Diagnostic
Marketing Strategy
Business Plan
Market Research
Database Research
Integrated Marketing Communications
Sales Channel Development
CRM – Customer Relations Management
Branding
Database Marketing
Online Marketing & Advertisements
Email Marketing Campaigns
Direct Mail Campaigns
Web Design & Development
SEO, PPC, Website Management
Managing & Monitoring Results
Advertisements
Graphic Design
Business Cards, Letterhead, Stationery
Brochures, Newsletters & Flyers
Print & Publishing
Video
Packaging & Point of Sale Displays
Trade Show Displays
Product Launch
Case Study Results…
Branding works…
The new brand and website has opened the door to new markets for the company.
Performance was dramatically improved with the implemented Integrated Marketing program.
Improved profitability…
The database research and direct marketing coordinated by Firstbase to potential customers throughout North America and helped significantly improve sales and profitability for Z-Tec's unique printing solutions.
FREE Consultation